Introducing Bloom
Bloom is a mobile app that allows you to check whether or not your cosmetics are pregnancy safe; helping you to feel safe and in control during your pregnancy.
Figuring out whether or not a cosmetic product is safe for pregnancy can be a time-consuming and confusing process: many people struggle to find a definitive answer online. By scanning or searching for your product in Bloom, you can quickly and easily find the answers you need. Additionally, Bloom uses face scanning technology to help you discover your skin type and skin needs - so that Bloom can curate recommended product collections that suit you best.
Bloom aims to give pregnant people that much needed guidance, control, and assurance when using cosmetics, because nobody should have to forfeit their skincare or beauty regime during their pregnancy.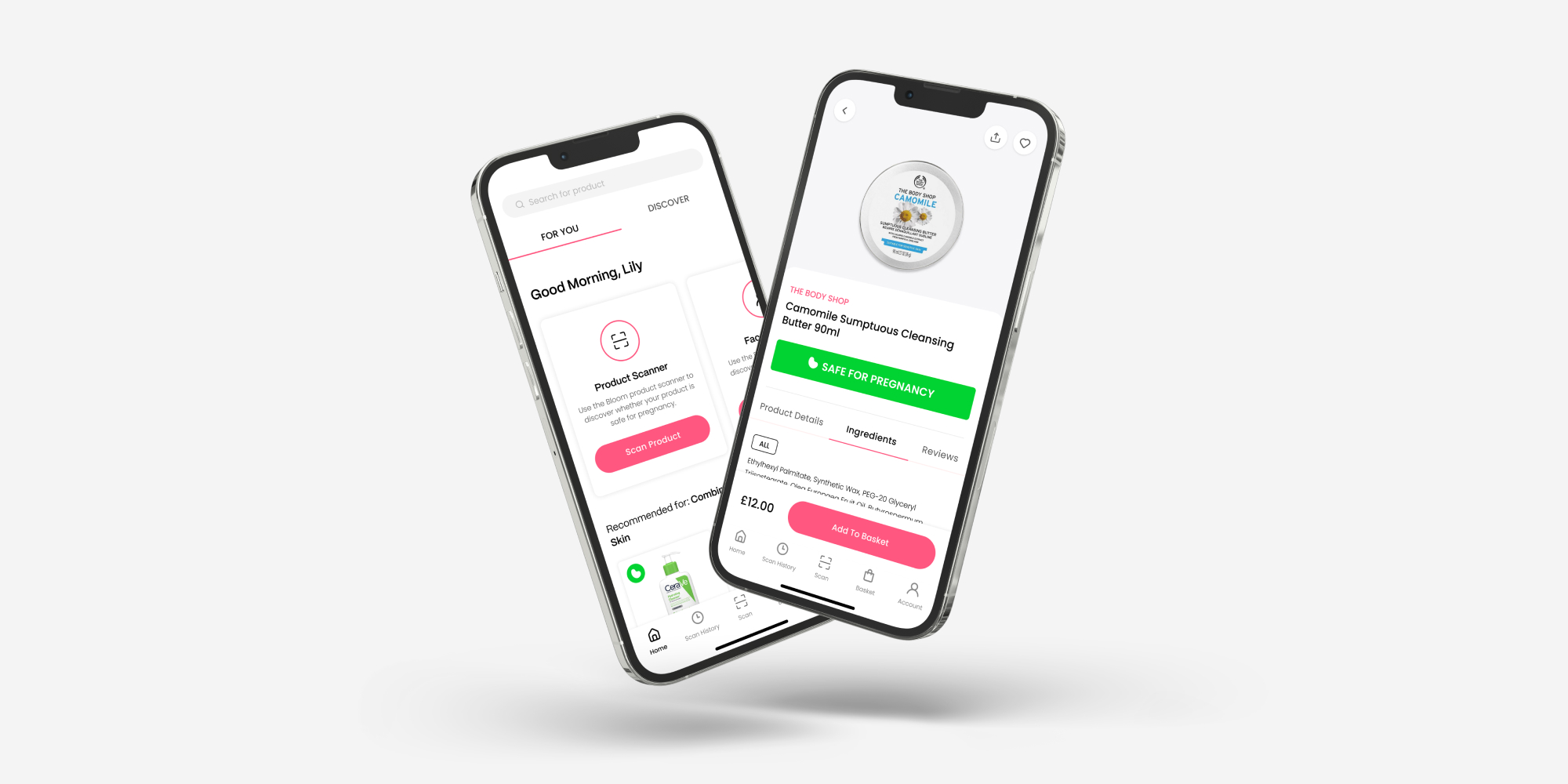 The Process
Bloom was created when I saw a post online by an influencer who described her struggle with figuring out whether her favourite products were safe for her to use during her pregnancy. I looked around to determine whether there was much competition in the market already, and was surprised to see that there was little to none!
So, I conducted some user research to find out if this was a common problem - by surveying potential users of a product like this, such as women currently pregnant or those who had been in the past. The survey helped me to discover that many recent mums did indeed find the process of checking their cosmetics difficult and confusing - and that some even stopped using their products altogether whilst they were pregnant. Now that I knew there was room for this product to exist, it was time to double down on the user research by creating a series of user personas and empathy maps, to understand potential users even further.
Next, I needed to consider how people would interact with the app, and how they would achieve their desired goals. To do so, I created user flows and sketched out a series of options for my user interface with those goals in mind. My sketching process allowed me to create low-fidelity mockups in Figma, which were used to user test at various stages, and help determine what my final product should look like!
The Outcome
Working on Bloom throughout this year has been an equally challenging and rewarding process, and I'm extremely proud of the result. I would love to continue with developing it moving forward to explore its value as a potential real life product!
This project has allowed me to not only strengthen the skills I have developed during my time at IXD, but has equipped me with many new ones. It's been very fulfilling to watch Bloom grow from a fleeting idea into a fully developed prototype - and I'm excited for what lies ahead.
You can learn more about the project here or view the prototype.