Cathal Mathers
Hi, my name is Cathal, I'm a UI/UX designer from Newry. I have a passion for all things UX design and creating all kinds of solutions to new problems. I also have a keen interest in designing for Virtual Reality (which you will soon discover).
In my opinion, the journey to becoming a great designer involves the ablity to be a good listener, take criticism, adapt to any situation and PATIENCE.
my mri
my mri is a virtual reality (VR) application designed for the Oculus Rift covering a wide age range, from teenagers to the elderly. The application is created to help first time users of MRI scans prepare for the procedure by providing a firstperson, immersive experience of the scan in the virtual world.
The user will be taken through the entire process of the MRI scan with realistic sounds of the machine present in the background and extra information on the scanner displayed on the screen for those who are visual learners.
The main purpose of my mri is to prepare and educate patients who are undergoing MRI scans. From the beginning, I wanted to go one step further and be able to create a VR product, one which I could relate to and have fun with along the way. I myself, being a patient who is familiar with MRI scans, wanted to challenge myself and create a product that I wish was available to me when I had my first scan. I am passionate about producing this app to alleviate concerns future patients may have..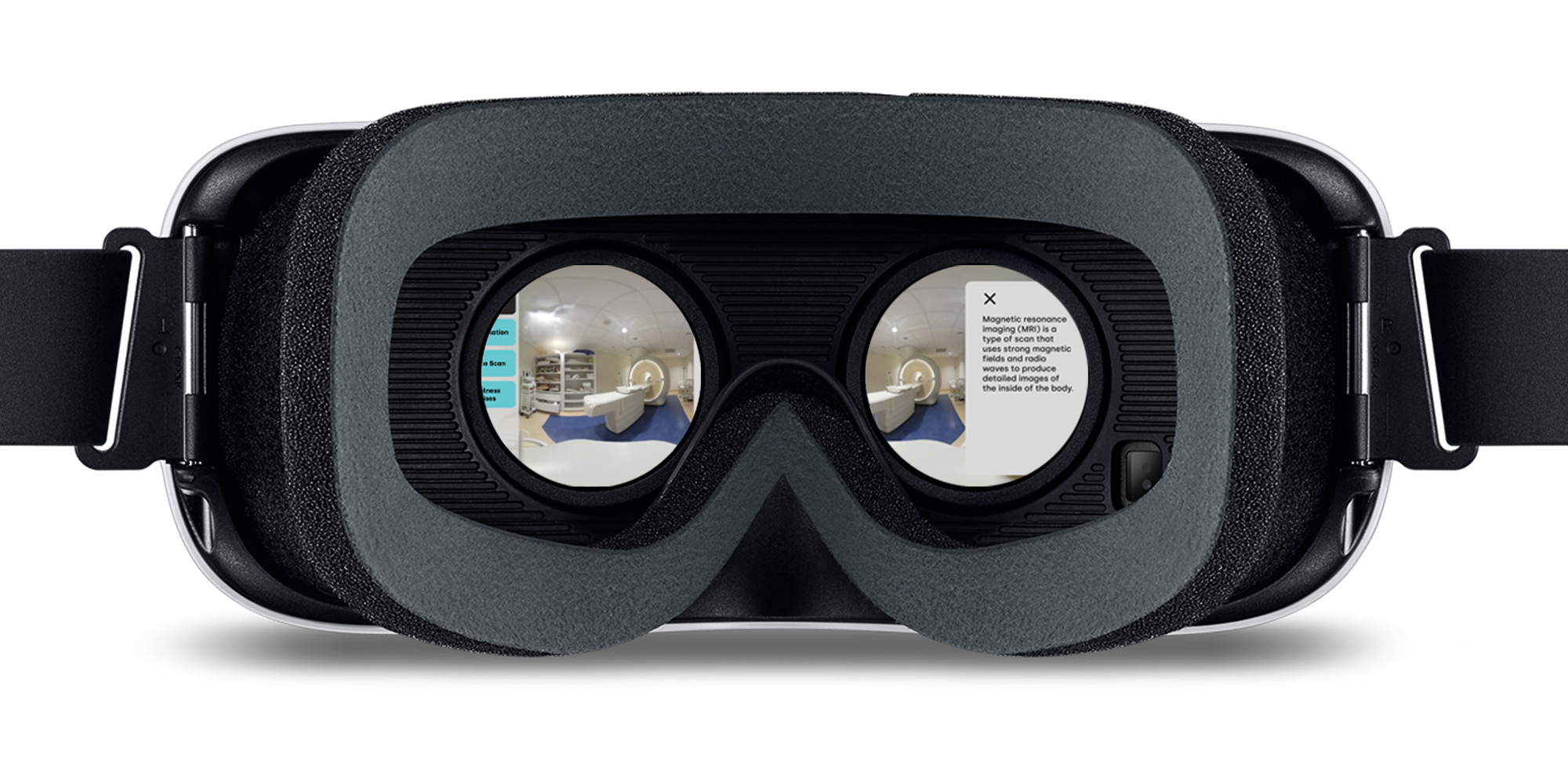 The Process
The next stage of my mri was to conduct some research to determine whether this application would benefit patients and also be useful to the health sectors. From research collected, I discovered that quite a large number of patients experienced fear or anxiety during the procedure. These statistics were from medical reports and articles. This gave me a great sense of relief knowing that my mri could potientially help these patients. At the same time, I thought of an idea to include a section within the app which could reduce their anxiety, the mediatative exercise section. All research obtained became the foundation of my mri.
Futhermore, I began looking at any competitors within the market that is similar to my mri and how they use VR to successfully target their audience. Alongside this, I created a survey to gather information on patients' experiences of MRI scans and what they wished they knew before having the scan.
Eventually, I had gathered enough research and information to start designing layouts for the app. The first stage was sketching on paper potiential ideas I had in mind for the layout, which I gathered from personal experiences of having owned the Meta Quest 2. These low fidelity designs are very helpful in limiting a large number of ideas down to an appropriate number. Shortly afterwards I moved to digital and began using Figma to further refine my ideas.
From this, my mri was beginning to take shape.
The Outcome
Creating my mri has been a challenging but enjoyable experience. As this was my first time designing a high-fidelity prototype for VR, I am happy to say I have learned new skills, while also having the opportunity to hone my current skills even further in the process. I was able to express my love of VR within this project and while this is my first VR designed app, I hope it isn't my last.
With regards to future developments, I hope to one day be able to integrate my mri into the health sectors as a primary method of educating patients on MRI scans, by providing them with an immersive experience, an opportunity I unfortunately never had.