SoberRoad
SoberRoad is a well-being App for IOS and Android with the main goal of helping addicts achieve and maintain sobriety. The app has features similar to habit trackers, social media and meditation products. The main features are the sobriety tracker which allows users to visualise their recovery from when they started to where they are currently. The Token system will reward the user with tokens for reaching various milestones and goals. These tokens can then be exchanged for vouchers and other monetary goods. SoberRoad also allows the user to save the money they would normally spend on their addiction by setting up a system in which an amount of money set by the user will be taken from their bank account and placed into a savings account.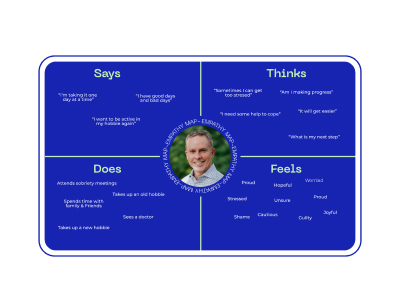 Working on SoberRoad forced me to re-evaluate my design process. Because of how big it was as a project and the topic I would be addressing, I wanted to spend more time researching addiction to make sure I fully understood the problem. Only then could I offer a viable solution.
The Process
I spent a large amount of time sketching wireframes and working on different iterations of the UI. I find that this allows the ideas to be more interesting and less rigid. Once I have some ideas I like, I bring thme into Figma and start to finalise the look.
I have used sketch in the past when designing UIs, but I wanted to learn Figma after seeing the amount of praise it has earned. So I made it my goal to design and prototype SoberRoad in Figma. I felt this kept me more interested in the project, as I was learning a new software whilst also working on such a large project.
The Outcome
Working on SoberRoad has been a journey laid with many ups and downs. I've been stressed, doubtful and anxious but I've also come away from this project with more experience and fulfilment than anything I have worked on thus far. Having spent more than 6 years studying design, I am more than happy that SoberRoad has been the resulting project.
You can view the final product and all the research through the links below
SoberRoad Prototype
Promotional Site
Research