Sarah Cupples
I'm Sarah, a determined, design-system-loving User Experience Designer, currently working to create user-focused experiences at Rapid7.
In my logged off hours, you'll find me oil painting, reading (anything and everything), or listening to true crime podcasts.
Notch
Freelancing is booming across all industries. The autonomy, flexibility, and earning potential of becoming a freelancer means millions of workers are making the transition each year.
But with this professional freedom, comes responsibility. Freelancers need to skilfully manage billable and non-billable time to ensure projects are profitable, or be left with a dwindling income. And with non-billable tasks on average, taking up to two hours of a freelancer's working day, this can feel like an impossible challenge.
Acting as a project companion, Notch aims to maximise a project's billable hours - and ultimately, freelancers' income - by providing the tools needed to get non-billable tasks done quickly and easily.
Available as a downloadable, desktop application, it provides features spanning task management, time tracking, and project budgeting.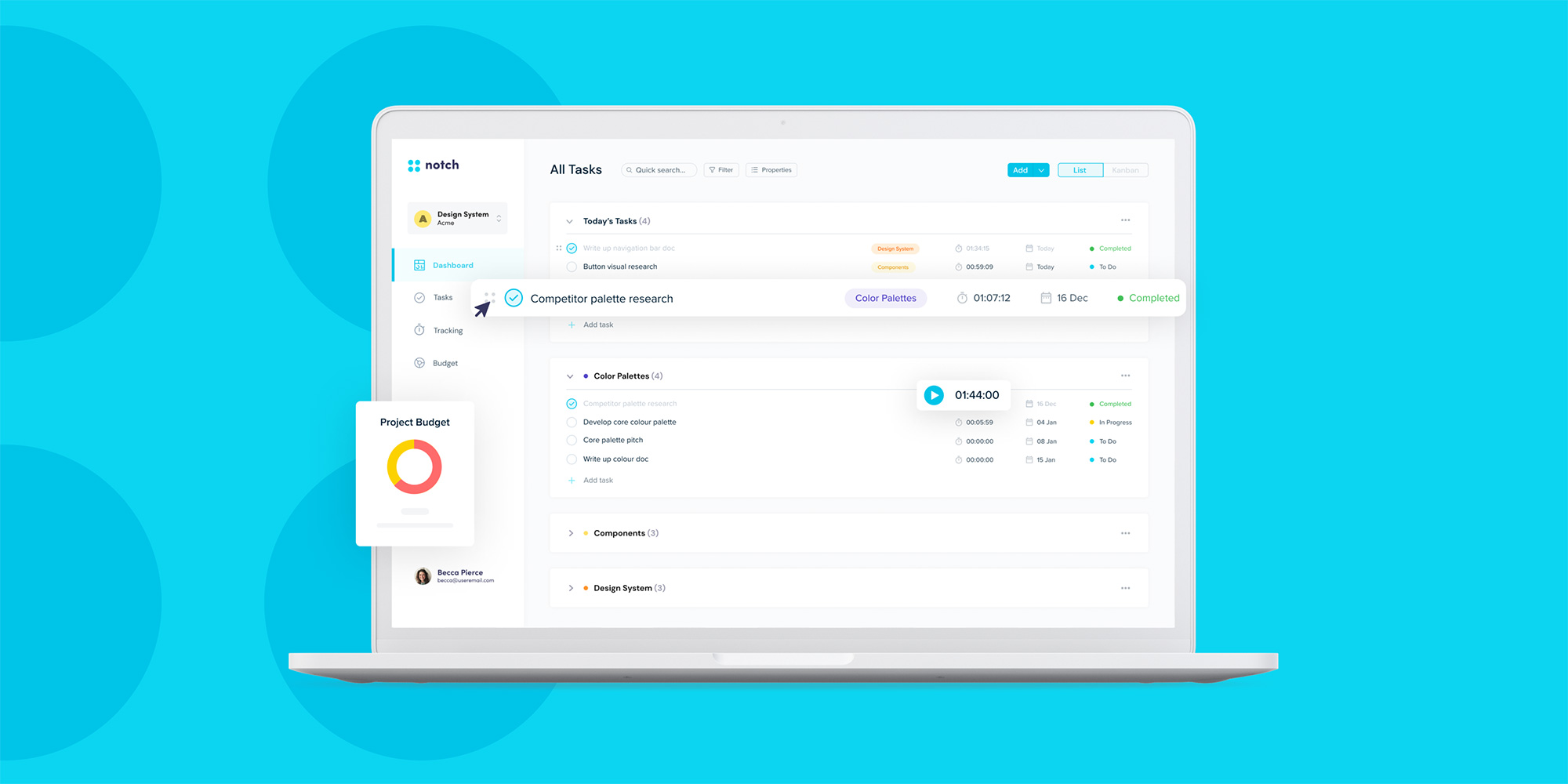 The Process
Notch focuses on a universal freelance experience - non-billable task management - which created significant work to be done in terms of research, design, and testing to ensure that the experience hit the mark.
User, and market, research took a highly central role within the early stages of Notch. By employing research methods, including user interviews, competitor benchmarking and affinity mapping, I was able to discover and analyse freelance behaviour, challenges, and motivations. Subsequent findings allowed me to closely define Notch's target audience, outline valuable features, and use data to drive all design decisions.
Following initial research efforts, design and usability testing went hand in hand to develop the Notch experience. By testing with users at every stage - from paper to high-fidelity prototypes - I was able to continually refine the interface, resulting in a much more insightful, informative, and actionable product. More than this, however, it ensured that freelancers had the final say over their own experience.
The Outcome
Taking Notch from problem definition to delivery was a uniquely challenging, insightful, and rewarding journey. It enabled me to exercise the iterative, user-centric skills learned throughout university and my UX design roles to date. I learned how to comprehensively research an unfamiliar area, identify the most crucial UX processes and methods to tackle a large problem, and - most significantly - branch out on my own and really get to know my users.
And, although Notch is currently only a concept, overwhelmingly positive user feedback has provided the foundation for it to become a tangible, real-world product.
Notch. A productive everyday.
Explore the full project process and demo here. Or learn more about Notch's features at notch.sitemodify.com.