The Project
For my major project, I have created an app concept for mobile which I have called Tramigo. Tramigo provides a way for friends to plan a holiday in one place. Users can create a group, add their friends to it and start planning their holiday together.
I chose to create this app due to the hassle that surrounds group travelling. It is difficult making group decisions due to different schedules, different interests and how much money people are willing to spend. Also, usually one person in the group takes responsibility for booking most of the holiday, which is pressuring.
To make group travel easier, there are financial features in the app. Users can pay within the app which ensures that everyone has chipped in and paid their portion towards the holiday on time. Users can also set a group budget, allowing the group to plan easily by searching within a particular amount of money.
Making sure each member of a group can contribute towards planning a holiday, Tramigo provides a voting feature. Each member in a group can choose different aspects for the holiday and all members in the group can then vote on what choice they prefer, where majority wins.
The Process
At the beginning of this project I was keen to solve the issue of wanting to travel with a group of people when your friends may not be available. However, there was a flaw in this as it isn't safe meeting a bunch of strangers. So I decided to focus on solving a different issue, to create something that makes travelling with friends easier.
There are a lot of different aspects of booking a holiday that I didn't want to miss, so thourough competitor research helped me to identify what I would need to include in my own app. I also carried out user research through a survey which helped me pin point what people found difficult with group travelling. I then created user personas, identifying the main aims of my app.
From here I could begin designing wireframes and flows to demonstrate what the app will do and how users would navigate throughout the app. I started building the app soon after in my design software of choice, Adobe XD.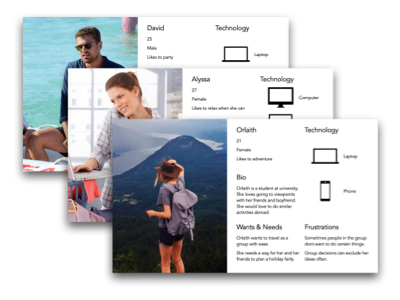 When my low fidelity prototype was complete I could begin some usability testing. This helped me to mainly identify issues in navigation which I used to make my design stronger. I implemented user feedback and after a number of iterations, brought the prototype to high fidelity.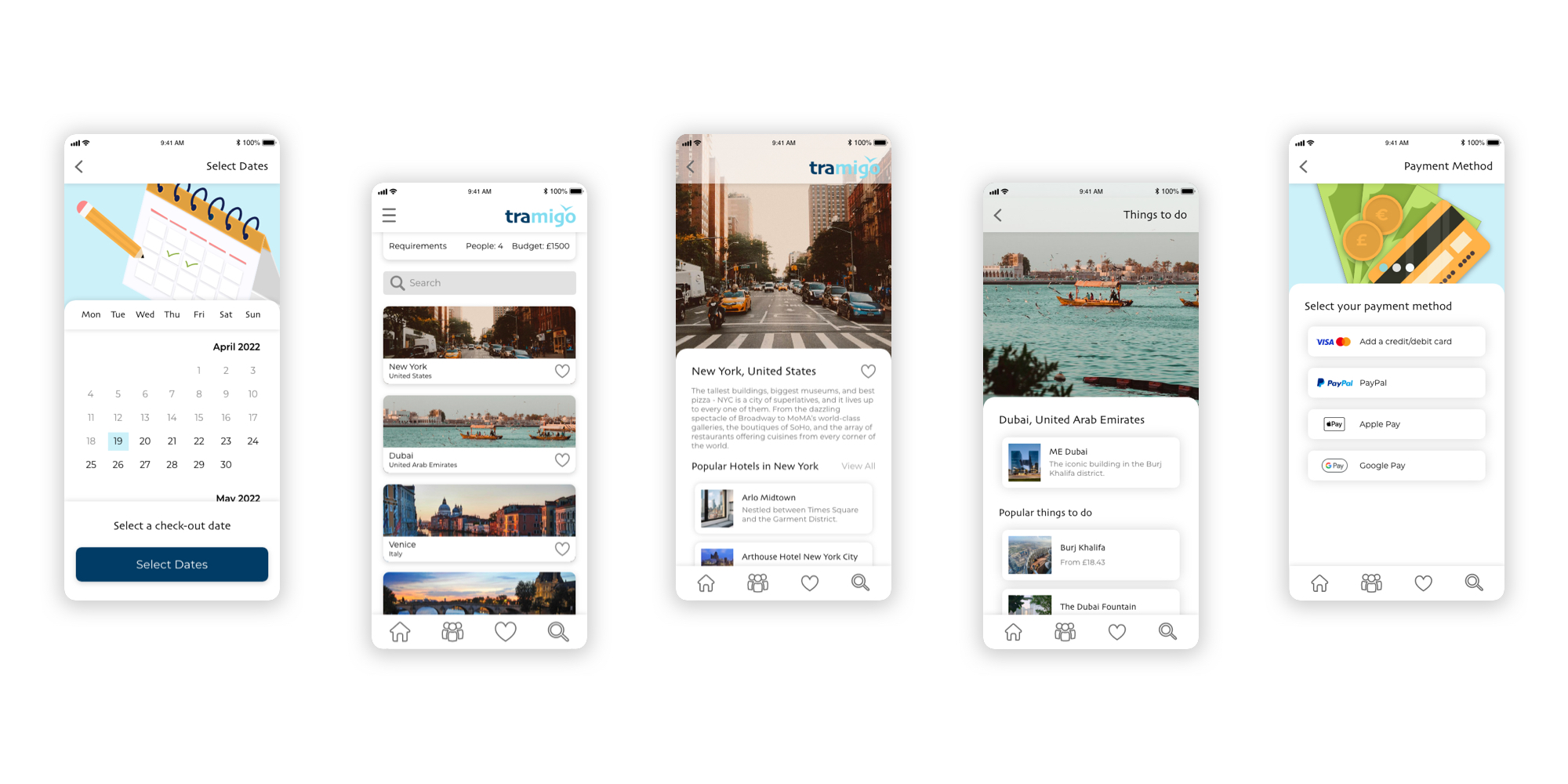 The Outcome
Overall, I am very happy how Tramigo has turned out. It has been an exciting and challenging project to work on, as I got to experience completing the full design process. Tramigo is a useful solution to a problem that many people have when travelling in a group, and I have created something that I am proud of.